Sailing into the Big Lagoon, El Nido.
Big Lagoon: the most beautiful place in El Nido.
Not many people have ever heard of El Nido, and for sure, few have seen this breathtaking "Heaven on Earth" place, composed of 45 islands and islets, located in Palawan, southwest of Manila, in the Philippines. Palawan has been ranked not only once, but also twice, in 2014 and 2015, as "The Best Island in the World" by Conde Nast Magazine's readers.
I visited the Philippines in February of 2015, and even though I only visited 6 of the over 7000 islands which comprise the country, I'm utterly convinced that nothing beats the extraordinary scenic wonders that exist in El Nido.
El Nido town
El Nido is a fortunate little town situated on the north end part of Palawan, full of fishermen, hotels, spa massage, restaurants and travel agencies. The city is the starting point to explore the islands, the remotes beaches and the lagoons.
The infrastructure is very simple, electricity installed a few years ago is a luxury, the Wi-fi is very bad, and you rarely see cars only tuk-tuks and motorbikes. However, the Filipinos are very friendly and speak perfect English, which makes the communication and relationships very easy.
With several travel agencies charging basically the same price for excursions, around US$ 20-25, I booked mine for the next day that I arrived in El Nido. Included in the island hopping visit was: Big Lagoon, Small Lagoon, Shimizu Island, Secret Lagoon and 7 Commandos Beach
The Big Lagoon
I probably run out of adjectives to describe the place which brought me to the Philippines…
The entrance of the Big Lagoon is whimsically magic. Sailing into the Big Lagoon on its shallow emerald crystal-clear water surrounded by mountains was breathtaking and unforgettable. I was in awe while the boat was sailing through its peaceful water. It looked so exotic and miles away from reality…
The boat made a lap around the Big Lagoon and stopped in front of the most fame and photographed spot. Different shades of green and a giant jagged rock that I saw so many times in pictures were just there in front of me. I refused to dive underwater in order to contemplate the most precious place I've ever seen. I did jump in the water many times and swim, but I can confess that most of the time I was staring at it hypnotized from its beauty.
I was so in love with the Big Lagoon that I took this same excursion twice! I felt like I did not appreciate it as much as I could on the first time and I was not sure when I would come back to the Philippines again.
I did visit others islands and islets in El Nido, but the Big Lagoon had definitely stolen my heart!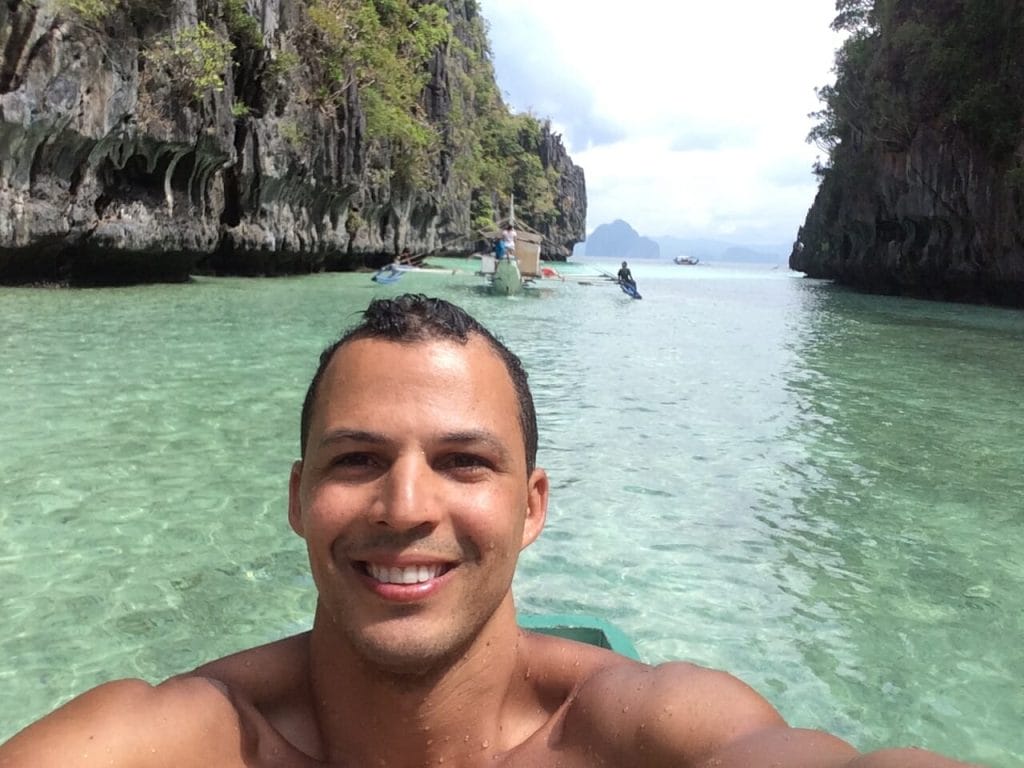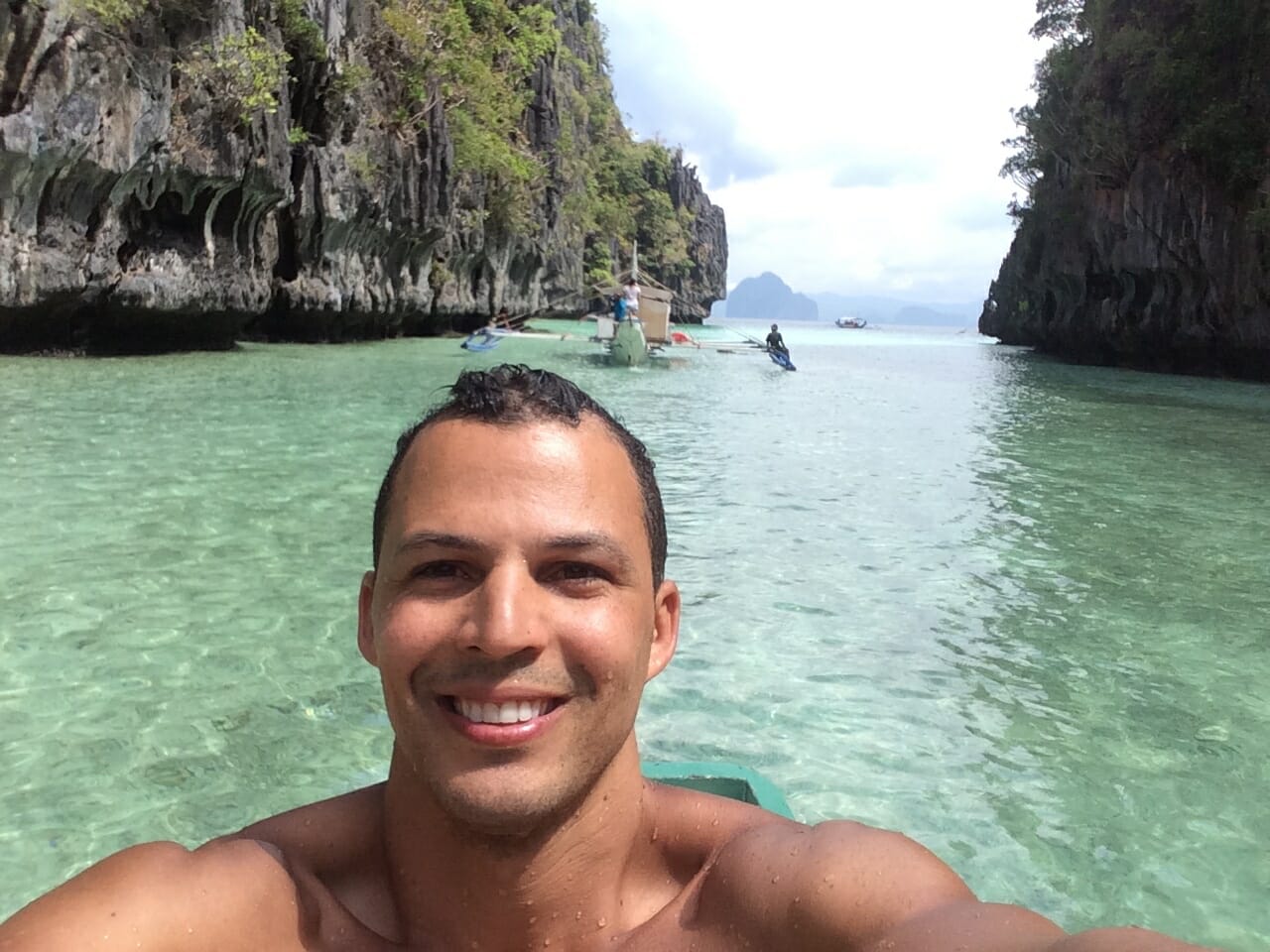 If you're visiting Boracay here is Where to Stay in Boracay. 
Visiting El Nido
El Nido is located on the north end part of Palawan, which is about 420 kilometers southwest of Manila, and  238 kilometers northeast of Puerto Princesa, Palawan's capital.
There are basically two ways to get to El Nido:
Flying to Puerto Princesa and from there you have to cover 220Km of highway and it can take 6h with a van until El Nido.
The most convenient, fastest and expensive way is take a 50min flight from Manila.
∗ Cebu Pacif, Philippines Airlines and AirAsia are companies that fly to Puerto Princesa.
∗ ITI is the only company which operates from Manila to El Nido and to get the ticket you need to contact El Nido Boutique and Art Cafe.
P.S.:  The third option is to take a ferry boat from Coron but it depends on weather conditions…
El Nido can be visited all year-round but the best time to visit is from December to March when the weather is more pleasant and it's the dry season for most of the Philippines.
I stayed at El Nido Beach Hotel.
∗ Round-trip flight with ITI Airlines: US$ 310.
∗ 5 nights at El Nido Beach Hotel with breakfast included: US$ 480 standard room for two.
∗ Island Hopping: US$ 20.
P.S.: You can try to get a small discount with some agencies that are on the way to leave the town , not wth the ones on the main street. Also try to book more than one tour at once and for more people.
For more information about the Philippines visit the site

It's more fun in the Philippines.

Here the full article of El Nido: one of the most beautiful places in the world!
Watch video

: Sailing into the Big Lagoon.