Opening a Hostel in Bali and My Goals for 2019
2018 was the best year of my life so far.
The year started out with a ton of stress as I worked 80-100 hour weeks and burned through every credit card I could get my hands on to grow my cash-intensive ventures.
I hustled, I slept, I hustled, I slept – that was pretty much my life for the first 6 months of 2018. It was tough to stay fit, to eat well or to really make the time to look after myself. At one point, there was five of us working out of my apartment for a few weeks – it was hectic.
It was a genuinely stressful time but failure was truly not an option – I had multiple fires under my ass and multiple people depending on me to pay them. And of course, if I did fail it would be impossible for me and Nina to stay together. I was, and am, all in.
We grew traffic on The Broke Backpacker to 2.4 MILLION unique users in 2018. This number blows my mind – over 2 million people visited my site, got some value and were better able to plan out their adventures because of the awesome resources we work our assess off to put together.
Monetising something you are passionate about can represent unique challenges – The Broke Backpacker is my baby so I don't want to just hammer it and make as much money as possible; The Broke Backpacker is first and foremost a free resource for backpackers looking to explore the world and I don't want to cover it with ads or go crazy with affiliate links.
But, I do still want to make a ton of money to fund my lifestyle of adventure, treat those I love and make my dreams come true.
Well, we learnt a lot on The Broke Backpacker over the last two years and I've been able to take those lessons and apply them on a GRAND scale on other sites.
In 2018, I started two other affiliate sites and these two sites have taken my online income to a place that I honestly didn't think was possible.
This newfound financial freedom has already changed my life and now I'm in a position where I can make more of my dreams come true…
There's one dream I've been holding onto for a while.
Ten years ago, when I spent a couple of years backpacking around India, I had a dream to open a hostel. The only problem was I had no idea how I would get the money… I fantasised about stumbling across a briefcase of cocaine on the beach to fund the perfect little backpacker haven in Goa.
The kind of place where people came for a couple of nights and stayed for a month.
Somewhere where I could have a dorm that was free – a place where musicians or artists could crash out in exchange for contributing to the hostel vibe.
A place where hostel romances and friendships could blossom, where you could get a decent nights sleep and enjoy The Broke Backpacker breakfast – the best value English breakfast you ever did see.
Somewhere with multiple chill out areas so you could enjoy beers with amigos, watch a movie, lounge in a pool or get some work done if you needed.
I wanted the kind of hostel where you could find your tribe.
In 2014, I bought TribalHostels.com – I knew this was the vibe that I wanted to capture and I've been thinking about this for some time…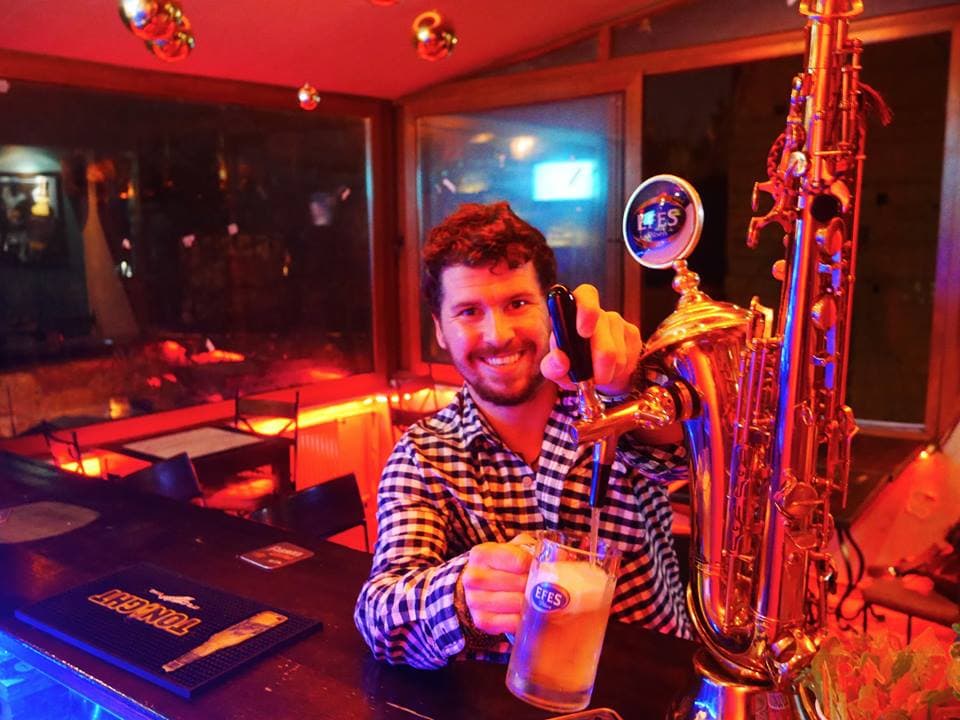 A couple of months ago, I was approached at Crossfit Wanderlust in Bali by a friend of mine, Mark.
Mark has a dream – he wants to be free. He wants to build an empire on his own terms. He wants to open the world's most successful chain of hostels…
Mark is, like me, motivated by freedom and by combining good deeds with profit making ventures.
Mark had been traveling the world for a couple of years now, exploring far flung lands such as Mongolia, China, North Korea and now Indonesia. He's not very good at handstand pushups but I decided I couldn't let that get in the way of our friendship…
Together, we drove around Bali looking for land to buy.
After a few false starts, we found the perfect spot. A gorgeous plot of land surrounded by rice paddies and just a 2 minute walk to the beach in Pererenan, a stone's throw from the happening hipster hub of Canggu.
We met with the landowner, a bejewelled lady who seems to own half of Bali, and she took a liking to us. After a little bit of friendly haggling, we signed on the dotted line and boom! Bam!
We now own land in Bali.
One more dream is about to come true.
In 2019, we will be opening the first of our Tribal Hostels in Bali.
In 2029, we will be running the world's most successful hostel chain.
Our team in Indonesia, lead by another Crossfitter – the unendingly enthusiastic Gonan  – begun clearing the land yesterday and by the time I get back to Bali in March we will be ready to start construction.
We aim to open by September so if you're in town and you wanna say hey, come on down – I'll probably be found either there or in the Crossfit box.
Planning for 2019
I've spent a large chunk of this last week planning out my 2019 and working on my five year plan. I'm a big believer in the power of goal-setting and the goals I've set for myself for 2019 are by far my most ambitious to date.
So I gotta ask you…
What is it you want to get out of this year?
I wholeheartedly encourage you to be ambitious, to pursue your passions and to put yourself through great discomfort in your quest for freedom. Most people who fail simply aren't hungry enough. Set some goals friends, it's powerful stuff…
Freedom isn't free, it takes hard work and sacrifice. If you want to be free to live your life on your terms, wake up when you want, work on projects you are passionate about, go where you want, when you want, then you need to be willing to sacrifice your comfort.
Here's the thing though, humans are fucking awesome.
I get that we all have doubts, faults and weaknesses. But every time you question yourself and ask 'Can I do this' the answer is always yes. You just need to be disciplined. To push yourself, and to keep on pushing no matter how much it hurts.
For your viewing pleasure, here's a video that demonstrates just how incredible people are…
My goals for 2019
I won't share all my goals or strategies here because it would take a while, but here are a few things I am pursuing in 2019…
Grow Epic Backpacker Tours: Out of everything I'm involved with, EBT makes the least profit and is one of the hardest ventures to run. I'm not in this one for the money though – EBT makes a HUGE difference to my friends and family in Pakistan with employment opportunities and donations to community projects. I'm stoked to be growing this and very shortly we plan to unveil new adventure itineraries in Pakistan, Guatemala and Kyrgyzstan.
Six pack abs: They are under there my friends, I can feel them… waiting to burst forth like the Alien in that movie whose name I cannot remember. The first quarter of 2019 is going to involve a lot of backpacking so my fitness will take a hit but once I'm back to Bali, I'll be training twice a day again and I'm stoked to have the time to focus on fitness – which has always been my second biggest passion (the first is travel). I'll be traveling with my yoga mat and TRX suspension system and I intend on getting a forty minute session in every day so I can give Mark and Gonan a run for their money when I do return…
To help 100 people launch their own online ventures: A few months ago, we launched Ditch Your Desk – a passion project aimed at arming aspiring entrepreneurs with the resources (all for free!) that they need to take the first step and start their own online business. It's been a little slow going recently as we've had a LOT on our plates and since DYD doesn't make us any money, it's sometimes hard to prioritise it but in 2019 I plan to put more time into this project and ensure that I help 100 people take that first step…
To start a project that benefits the environment: This year, I'll be launching a new project where we will be creating travel products out of reclaimed ocean plastics – watch this space amigos – more news coming soon!
A million dollars in the bank: Full disclosure, I'm pretty far off – but this year will be the year and I'm confident I'll be hitting six figures a month by April.
To seek to understand, rather than to respond: I have many many faults. I am a far from perfect creature with a history of aggression, addiction and eating cheesecake at midnight. This year, I'll finally have a bit of time to work on some personal development and first up is to seek to understand what people are saying to me and how they are feeling, rather than just instantly trying to fix their problem.
To stretch every day: Chicks dig bendy dudes (probably?). I've been doing yoga for about six months now and I'm fucking loving it. I've been trying meditation, and then headspace, for a couple of years but my mind always keeps racing… Yoga hits a sweet spot as I have a flow to focus on whilst also getting a chance for my mind to wind down a bit. I'm aiming to get a one handed handstand by the end of the year!
To wind down my work to 20 hours a week: One of my biggest objectives for 2019 is to seriously focus on my fitness. To make that happen, I'll need to work less. Over the course of this year, I will definitely need to work my ass off but by the end of the year I intend on reducing my workload to 20 hours a week, or less, thanks to my team building and automated systems.
Grow traffic on TBB to half a million unique visitors a month: We're just over half way there at the moment… I have some next level SEO strategies that I've been testing out for the last few months. Right now, I'm designing an automated system that will enable me to unleash what I've learnt on a mass scale – if this interests you, keep an eye on Ditch Your Desk as this is where I blog about some of what I'm up to online (can't give it all away just yet).
My travel plans
Right now, I'm frantically writing this from Gatwick Airport as I prepare to begin a whirlwind three months of adventuring before heading back to Bali!
I'm starting off by heading to France to meet with Chris and Ralph – two epic dudes who have been working for me for about a year now and who are helping me grow the adventure tours in 2019.
Then, I'm heading to Istanbul for three days with Nina – Turkey is the closest country to Europe that we can meet in on account of her passport. Nina was supposed to come back to the UK for Christmas but her visa was rejected yet again – fuck the UK government.
I had a really lovely Christmas with my parents and dogs but Nina was certainly missed.
After Istanbul, I'll be flying to Medellin to meet up with my brother for a couple of weeks partying in Colombia for my upcoming thirtieth birthday.
Then, onto Ecuador – one of the few countries that gives Iranians visa free access in South America – to meet Nina for two weeks of exploring, adventuring and cuddling.
Finally – onwards to Peru for a month of high-altitude trekking, ayahuasca and soaking in the mysterious beauty of the Sacred Valley.
I am STOKED!
I haven't been to Ecuador or Peru before and it'll be great to experience some new cultures, foods, mountains and parties 🙂
After this whirlwind adventure, I'll be heading back to Bali to set up my base for the next couple of years and adopt several new dogs…
My brother will be heading out to Bali as well to live with me and work on his own online venture – Diving Squad – and I'm stoked to have him in Bali with me.
The rest of 2019 will be a busy yet fun time for me and I plan to explore Japan as well as finally experiencing vanlife in New Zealand – I am stoked!
I reckon I'll be in Bali for 7-8 months next year and I'm looking forward to having such an awesome base to hang with my friends and work my ass off both online and in the gym 🙂
Whatever it is you want to do this year, be sure to set goals and then put in the time and discipline to ensure you get to where you need to be…
Have an incredible 2019 friends!